Pool Spa Landscaping Lighting Sea Bright NJ
Premium Pentair™ Pool Lighting
Pool Spa Landscaping Lighting Sea Bright NJ
Our broad range of pool, spa, and landscape lighting system options can turn pleasant poolside evenings into magical nights in your back yard wonderland. Our lighting systems have been the brand of choice worldwide for nearly 50 years. That's because we deliver the innovations, quality, reliability, energy-efficiency, and value pool builders and pool owners demand.
Choose from dazzling color-changing lights as well as standard incandescent and halogen lighting for underwater effects, and fiber optics for perimeter and landscape. Plus we offer niches and accessories to complete your pool lighting package.
---
The Most Energy-efficient LED Pool Lighting Available
The incredibly efficient IntelliBrite 5g color-changing lights are made up of combinations of individual, colored lights that are automatically sequenced at varying speeds, producing a vibrant spectrum of hues. The superior design allows for uniform light intensity and color while avoiding hot spots and glare.
Pool lens can be rotated to 180° to provide wide beam pattern (standard) or narrow beam pattern
IntelliBrite technology makes use of the brightest and most energy-efficient LEDs available in underwater pool and spa lights
Consumes up to 50% less energy than competitors' lights
Choose from 5 predetermined fixed colors (blue, green, magenta, white and red) or 7 popular preprogrammed "color shows"
Designed to work with IntelliTouch® and EasyTouch® Control Systems
Backwards compatible with first generation IntelliBrite lights
Available in 120-V and 12-V versions
All Pentair UL Listed underwater lights are certified for use in freshwater with up to 6,000 ppm salinity.
Note: All 120-V pool and spa lights must be connected to a branch circuit protected by a ground fault circuit interrupter (GFCI).
Notice: Underwriters Laboratories has listed Pentair Water Pool and Spa Inc. lights for use with Pentair Water Pool and Spa, Pentair Pool Products, American Products, Purex or PacFab niches ONLY. To ensure proper grounding/bonding connections, install only Pentair Water Pool and Spa Inc. lights in Pentair Water Pool and Spa, Pentair Pool Products, American Products, Purex or PacFab niches.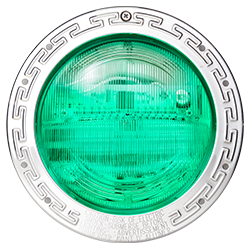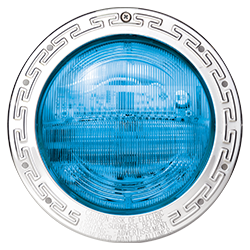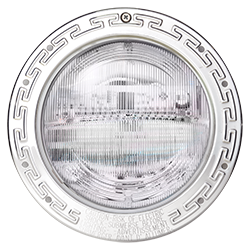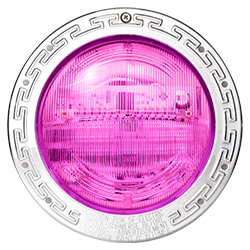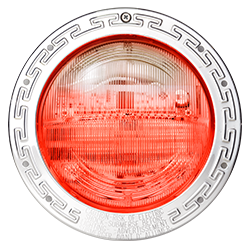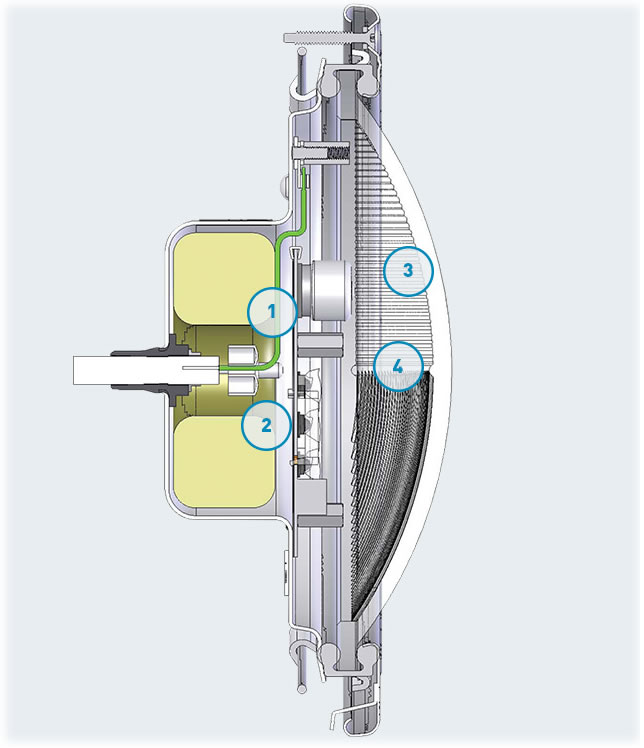 Product Components
Custom reflector to eliminate hot spots
LED lights for exceptional light intensity
Superior lens geometry to improve color effects
Light beam distribution creates more uniform illumination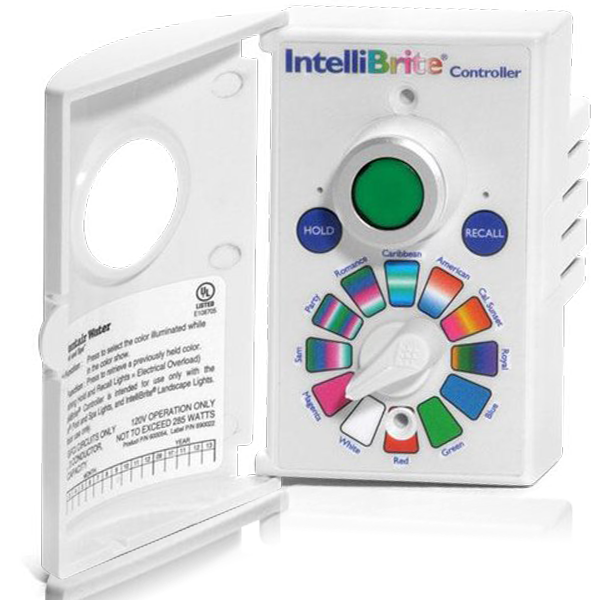 Provides Fast, Easy Access to 12 Color Modes
The IntelliBrite® Controller works with IntelliBrite Color Pool & Spa LED lights as well as IntelliBrite Landscape Lights. It can control and synchoronize both sets of lights to create dazzling shows.
Features
Waterproof Outdoor LED Color Light Controller
Quick access to all colors and shows
Convenient hold and recall function
Fits in 22.5 cu.in. single gang box or larger
Illuminated power button
IntelliBrite® color-changing LED landscape light
IntelliBrite® color-changing LED landscape lights are the exclusive way to add a variety of colored lighting effects to your backyard retreat. Whether you're ready to wind down for the evening or perk up for a party, IntelliBrite® LED landscape lights will create the perfect atmosphere.
Select from two color effect modes for a total of 10 rich, fixed
colors and 14 mesmerizing, automated light shows to match
your mood, the occasion or the season of the year.
Choose between two brightness levels to alter color intensity.
Fully adjustable, compact, medium flood design in attractive
matte black finish.
Easily placed to highlight a tree, shrub, lawn sculpture or garden,
as well as to illuminate drives, walks or decks and patios.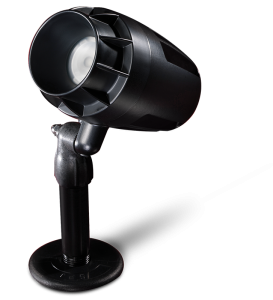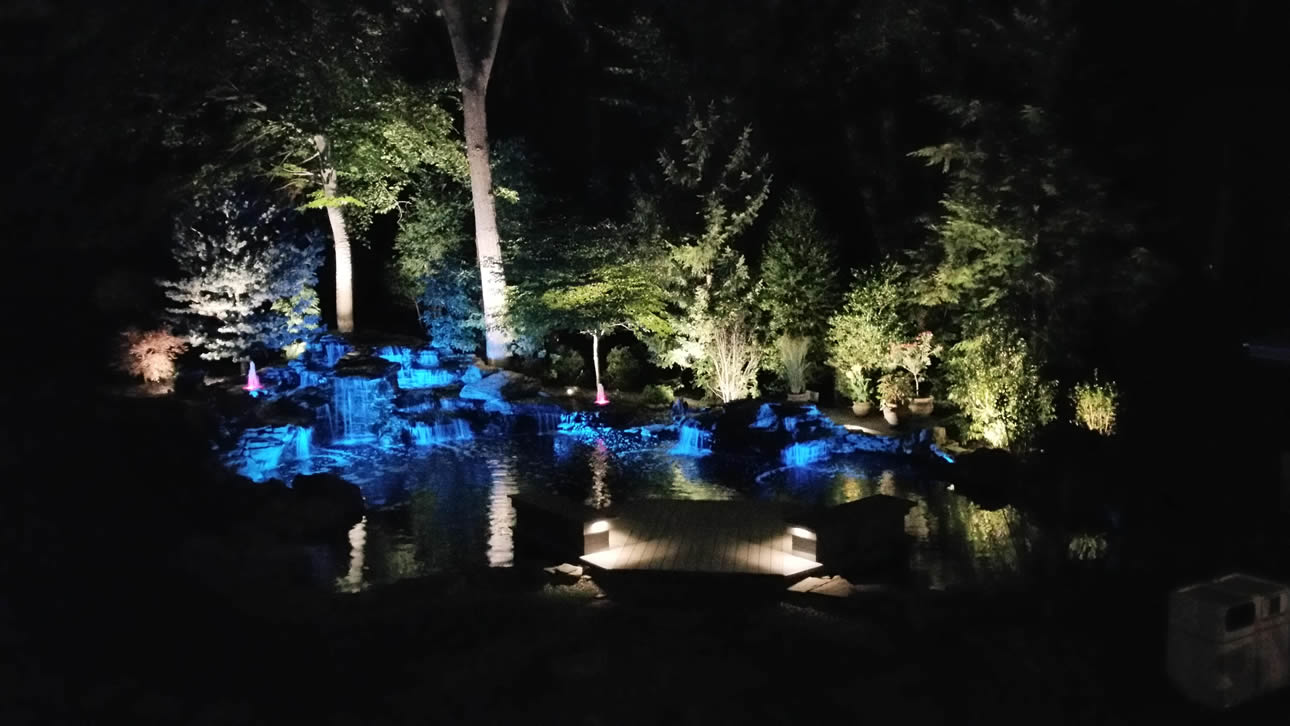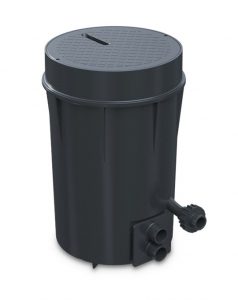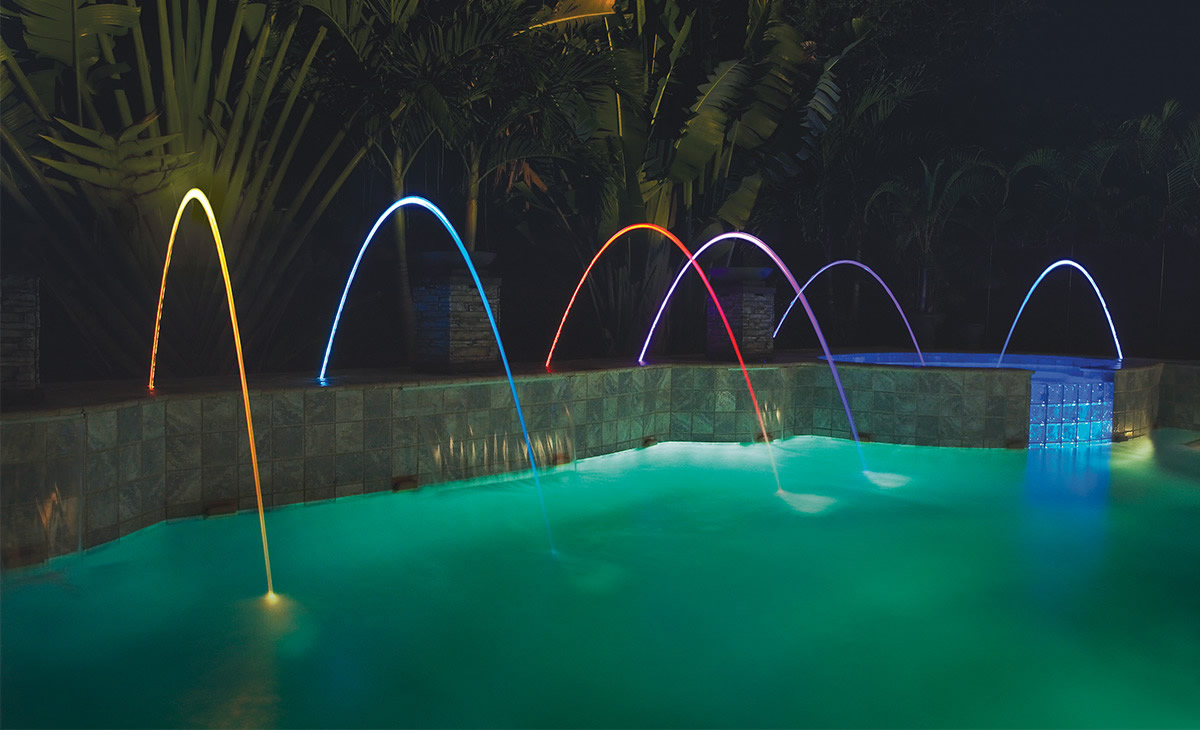 MagicStream® Laminars
Elegant, Dramatic Arcs of Brilliantly Illuminated Water
MagicStream Laminars add dramatic sights and sounds to your poolscape by creating uniform arcs of water that are crystal clear by day and vibrantly colored by night.
Streams reach up to 7 ft. high and project outward up to 8 ft. into your pool, spa or other water feature
Choose energy-efficient LED lighting for a nearly endless array of color choices
Nighttime lighting effects include the ability to hold on a steady color or scroll through a range of available colors
Installs flush to your deck or other surface so no unsightly or unsafe edges
Adjust water streams vertically from 62° to 75° to create different heights and arc shapes
Left and right direction can be adjusted up to 60° total
Laminar deck lids are available in tan, black and gray to match or complement pool deck or other installation surface
LED laminars include 100 ft. of electrical cable; simply connect to a 120/12VAC-100W pool lighting transformer to provide power
The technical principle behind MagicStream Laminars is to remove all turbulence and air bubbles from the water before projecting it through a finely machined nozzle; the laminar water flow is very nonturbulent, so it keeps its surface tension and flows through the air in a smooth, clean, unbroken stream, instead of spraying apart into droplets
Magic Stream Laminars ship fully assembled and ready to install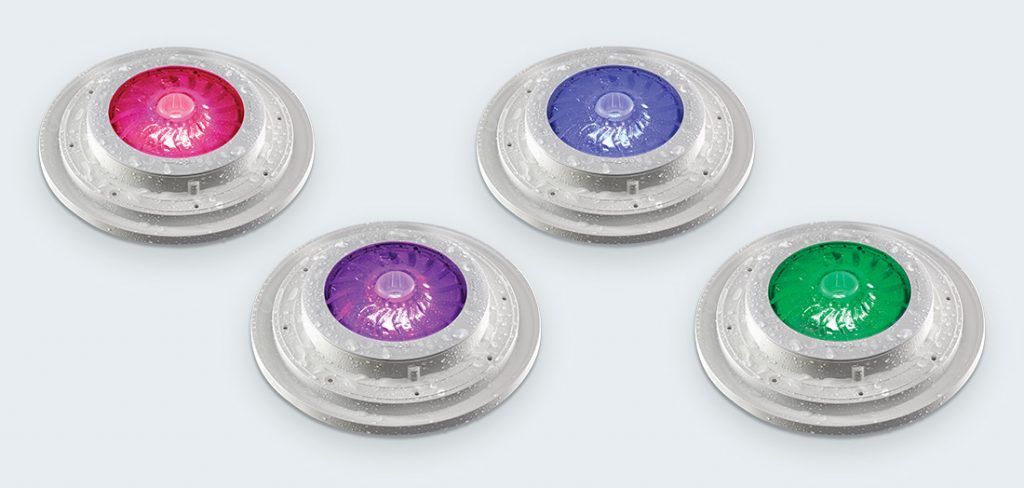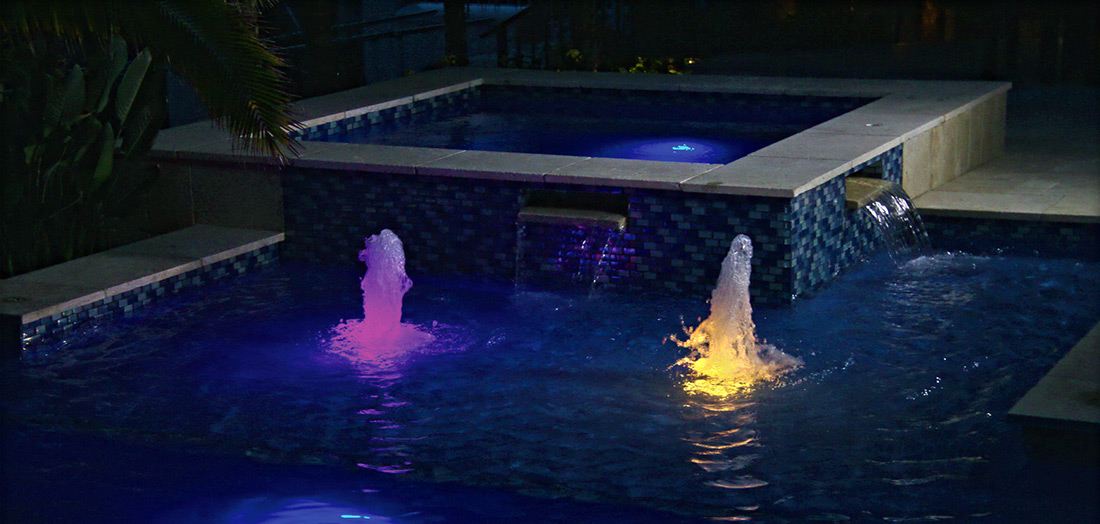 ColorVision®
Bubbler with Separately Sold GloBrite® LED Lights
Makes Pools Come Alive With Colorful, Moving Water
A spectacular display of moving water by day becomes a vivid, mesmerizing light show by night. The energy-efficient ColorVision Bubbler with separately sold GloBrite LED Lights lets you transform your pool into a magical escape.
5 fixed colors; 7 dazzling light shows
Plume height up to 24 in.
Designed for use in 2 in.–10 in. of water depth
Low-voltage operation of 12VAC/15W
Low-flow requirements allow for multiple units per pool
Niche provides for flush mounting
GloBrite LED Light cord length available in 30 ft., 50 ft., 100 ft. or 150 ft.
Light Integration
ColorVision perfectly synchronizes with IntelliBrite® 5g Underwater Color-Changing LED Pool and Spa Lights, providing eye-catching style and soothing sounds to heighten your senses and elevate your aquatic experience.
Automation Compatibility
The optional IntelliBrite controller provides fast, easy light control for pools and spas without automation systems. ColorVision is also compatible with IntelliTouch® and EasyTouch® Control Systems for ultimate convenience.
Showcase Water Features
ColorVision LED bubblers and separately sold GloBrite LED lights transform shallow water into places of enchantment. Whether you're in the mood to relax or entertain, ColorVision bubblers are the perfect way to showcase and enhance pool features like sun shelves, steps and beach entries.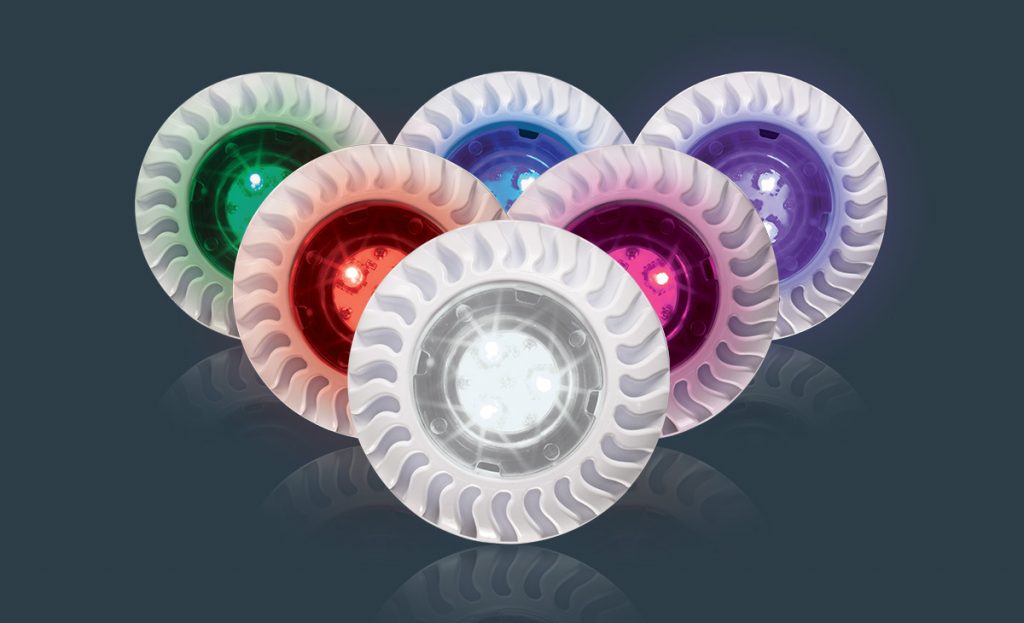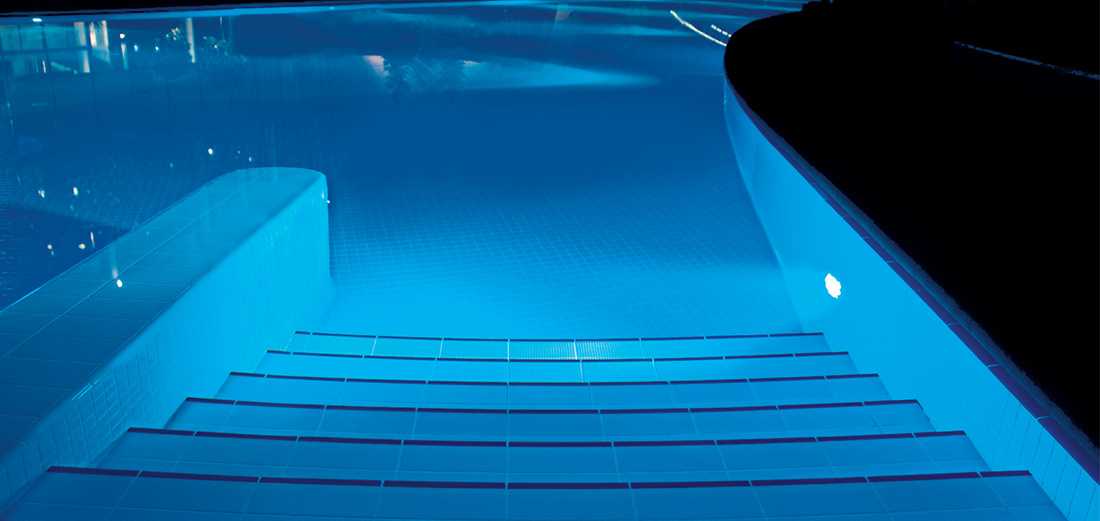 GloBrite®Color LED Lights
Add Brilliant Multicolor LED Lighting to Shallow Water Areas
GloBrite lights utilize the industry's most advanced technology to showcase and enhance your pool's shallow water features, making your poolside evenings go from great to spectacular. Not only are GloBrite lights quick and easy to install, they are also the brightest and most efficient LEDs available.
5 brilliant fixed colors; 7 dazzling preprogrammed light shows
The perfect complement to IntelliBrite® 5g LED Pool Lighting for dynamic, synchronized colored light shows
Compatible with IntelliTouch® and EasyTouch® Control Systems
Can be used with an optional IntelliBrite® Controller
Does not require grounding or bonding for quick and easy installations


Energy-saving Technology

GloBrite lights utilize the industry's most advanced technology for bright, energy-efficient lighting—while using less energy than comparable pool and spa lights.

Showcases Pool Features

GloBrite lights are the creative, cost-effective way to showcase and enhance pool features like baja shelves, steps, beach entries and other water features. Let GloBrite LED lighting illuminate your water features and make your evening swims and backyard entertainment more beautiful and exhilarating.
All Pentair UL Listed underwater lights are certified for use in freshwater with up to 6,000 ppm salinity.