Control System for Pool and Spa
The IntelliCenter Control System for Pool and Spa is the latest automation innovation from Pentair. Easily and intuitively manage the features of your pool and/or spa from anywhere in the world with IntelliCenter's remote access and built-in connectivity for the ultimate in convenient control.
Enables mobile access and smart home control for added convenience
New color touchscreen interface provides clear, intuitive display
Optional indoor control panel and wireless remote
Allows for remote temperature control so pool or spa is ready to use when you are
Provides real-time email alerts
Controls spa jets, lights and light shows, blower, water features, etc.
Interfaces with iOS®, Android® mobile devices, Apple Watch® and Amazon Echo®, enabling owners to check their pools status remotely.
The IntelliCenter® Control System for Pool and Spa
UL-C, US Certified

Every Pool/Spa And Dual Body Intellicenter™ System Comes With Two Intellivalve® Valve Actuators
Every pool/spa combination (pool with attached spa) and dual body (separate pool and separate spa) IntelliCenter System comes equipped with two IntelliValve Valve Actuators. IntelliValve Actuators offer the best flow control technology available for your backyard paradise. You can set flow for slides, water features and spillways. Unlike competing valve actuators, setting IntelliValve Actuators doesn't require trial-and-error disassembly procedures. They're easy to set from the intuitive, push-button interface on the actuator body. Precise accessory flow control has never been so simple!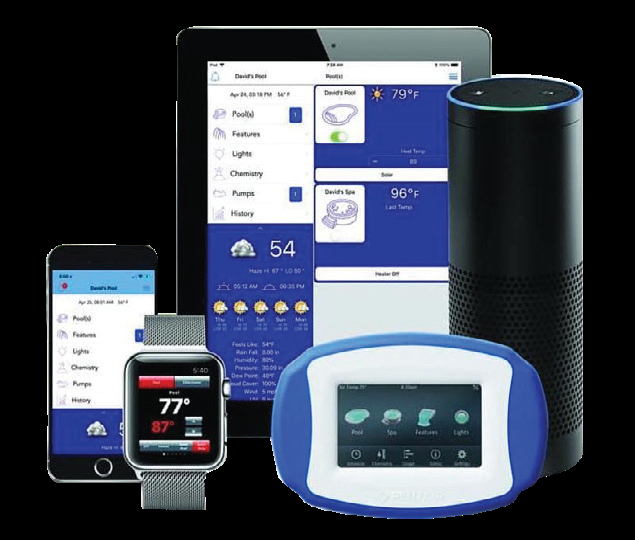 Easy Remote Control Or Remote Access
The IntelliCenter Control System for Pool and Spa has built-in connectivity for iOS and Android mobile digital devices. It also allows control from an Apple Watch® wristwearable device as well as an Amazon Echo. Want to turn on heating for a warm, relaxing soak before you arrive? IntelliCenter makes it easy. It can even provide real-time alerts when an issue requires attention.