NEW – ETi® 400
High-Efficiency Pool and Spa Heater
The World's First Pool Heater With a Direct Fire Pure Titanium Heat Exchanger
When you want quality, strength and durability, you want the corrosion resistance of titanium. The ETi 400 is the world's first heater with the TitanTough™ direct-fire pure titanium heat exchanger for long-lasting, thermal and energy-efficient heat.
Longest-lasting heat exchanger ever built
Incredible 96% thermal efficiency—more heat gets into pool water faster
Best-in-class energy savings
Can now be converted from Natural to Propane Gas by purchasing a Propane Gas Conversion Kit.
Unmatched Durability and Efficiency
EASY TO VENT PROPERLY: Fully sealed Category IV direct-air vent does not require large room openings for combustion air
ULTRA-QUIET OPERATION: Great for you, great for your neighbors
INSTALL IN LEFT OR RIGHT ORIENTATION: Rotatable front door allows control pad to be rotated 180 degrees, so this heater can be plumbed on the right- or left-hand side
A Metal That Gets Respect
Titanium is known for excellent corrosion resistance, high strength and light weight. The job of the heat exchanger is to capture the heat from burning gas and transfer it to your pool's water—the more efficiently, the better. But, the combination of operating heat and pool water chemistry can be tough on exchangers, leading to corrosion and failure. That's why we made the ETi 400 High-Efficiency Heater's direct-fire heat exchanger from pure titanium. It provides long life under extreme conditions.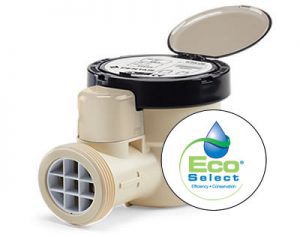 FREE
iCHLOR
SALT GENERATOR
with purchase of an ETi 400 heater* call for details
*cannot be combined with any other deals. Expires 4/30/2023
POOLS & SPAS SERVICE INC REVIEWS