We Sell and Install Premium Pentair Pool Heaters
Why it Pays to Own a Heater in New Jersey
New Jersey pool owners are quick to realize that the weather is such that their pools are slow to heat up and quick to cool down to almost frigid temperatures. With warm, comfortable water falling between 82-88 degrees, pools in New Jersey experience less than 20 days of warm water each year. With all the money you have invested in your pool, does it really make sense to rely just on the weather? Or does it make sense to plan for some reliable heat source for your pool so that you can use the pool any day you want, any time, 5 months a year?!
At Pools & Spas Services, Inc. we'll be glad to install an affordable, fuel efficient pool heater in the form of the Pentair Master Temp High performance Pool Heater. With a microprocessor controlled thermostat and wind resistant design, the Pentair pool heater will keep you warm no matter what the weather. Pools & Spas Service, Inc. is proud to sell and install Pentair pool heaters. From the moment it is installed, you will enjoy years of comfort and warmth with a pool that is just the temperature you like. Call now and start swimming earlier this Spring.
High Performance Eco-Friendly Heaters
MasterTemp heaters offer all the efficiency, convenience and reliability features you want in a pool heater, plus a lot more. As easy to use as your home heating system, plus, user-friendly indicator lights and troubleshoot icons make system operation and monitoring a snap. The compact design and super quiet operation won't intrude on your poolside leisure time. Heavy-duty (HD) unit with cupro-nickel exchanger stands up to the harshest of applications, like low pH, high flow or heavy use.
Overview
All the Efficiency, Convenience and Reliability You Want in a Gas-fired Heater
As easy to use as your home-heating system, MasterTemp has user-friendly indicator lights that make system operation and monitoring a snap. The compact design and quiet operation won't intrude on your swimming and poolside enjoyment.
Heats up fast, so no long waits before enjoying your pool or spa
Best-in-class energy efficiency*
Manual gas shut-off when service is required
Eco-friendly MasterTemp is certified for low NOx emission and outperforms industry standards
Rotating digital display allows for easy viewing
Tough, rustproof exterior handles the heat and weathers the elements
Certified for outdoor and indoor installations
Compact design fits on smaller less intensive equipment pads
The MasterTemp heater is certified for low NOx emissions
*Standard copper heat exchanger 84% efficient. Heavy-duty (HD) cupro-nickel heat exchanger 82% efficient.
NEW – ETi® 400
High-Efficiency Pool and Spa Heater
The World's First Pool Heater With a Direct Fire Pure Titanium Heat Exchanger
When you want quality, strength and durability, you want the corrosion resistance of titanium. The ETi 400 is the world's first heater with the TitanTough™ direct-fire pure titanium heat exchanger for long-lasting, thermal and energy-efficient heat.
Longest-lasting heat exchanger ever built
Incredible 96% thermal efficiency—more heat gets into pool water faster
Best-in-class energy savings
Can now be converted from Natural to Propane Gas by purchasing a Propane Gas Conversion Kit.
Unmatched Durability and Efficiency
EASY TO VENT PROPERLY: Fully sealed Category IV direct-air vent does not require large room openings for combustion air
ULTRA-QUIET OPERATION: Great for you, great for your neighbors
INSTALL IN LEFT OR RIGHT ORIENTATION: Rotatable front door allows control pad to be rotated 180 degrees, so this heater can be plumbed on the right- or left-hand side
A Metal That Gets Respect
Titanium is known for excellent corrosion resistance, high strength and light weight. The job of the heat exchanger is to capture the heat from burning gas and transfer it to your pool's water—the more efficiently, the better. But, the combination of operating heat and pool water chemistry can be tough on exchangers, leading to corrosion and failure. That's why we made the ETi 400 High-Efficiency Heater's direct-fire heat exchanger from pure titanium. It provides long life under extreme conditions.
The First Pool Heater to Combine a Heat Pump and Gas-Fired Heater
Another industry first from Pentair, the UltraTemp ETi Hybrid Pool Heater combines a pool heat pump and an ultra-high-efficiency, gas-fired heater in the same unit. The result is an eco-friendly pool heater that delivers superior energy savings and lets you put more summer in your calendar.
Four operating modes
Dual titanium heat exchangers for long life
Interfaces with IntelliCenter® and EasyTouch® Automation Systems
Low NOx and no ozone-depleting refrigerant
Works seamlessly with IntelliFlo® Pumps
Lower energy costs for longer pool season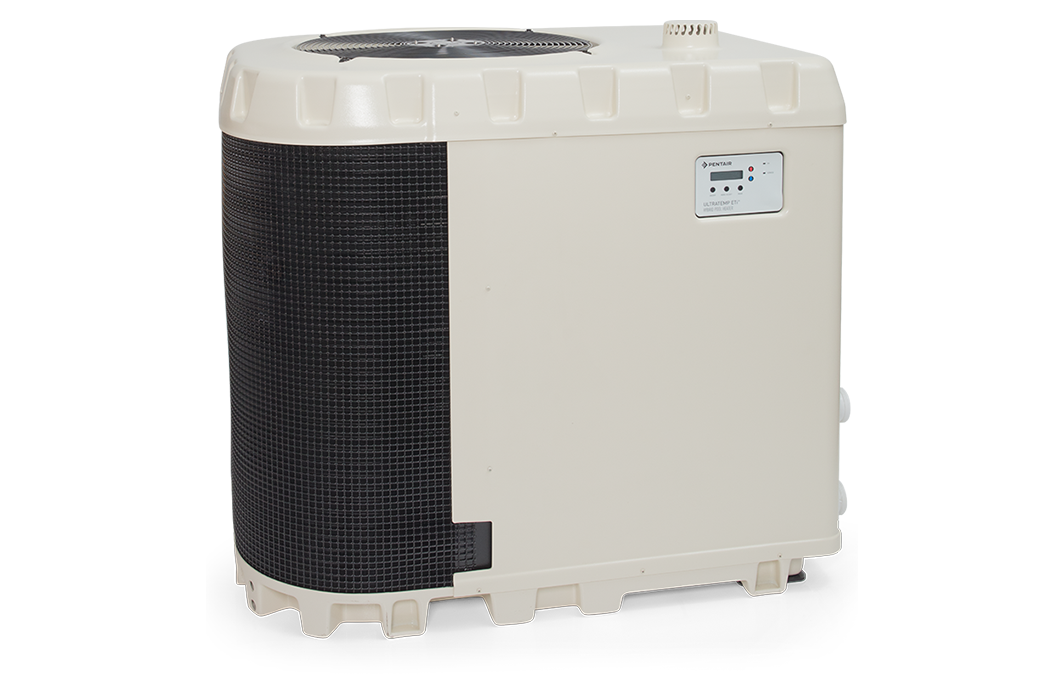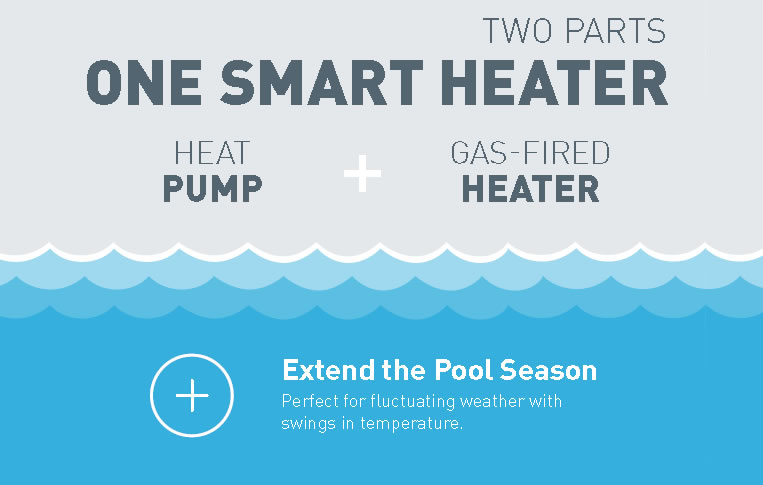 Why the Hybrid Pool Heater?
Two great heating technologies in a single heater—gas + heat pump that delivers energy savings, fast heat ups, and is long lasting.
A Powerful Heat Pump Gas Pool Heater Combination to Make Summer Last
The first of its kind, the UltraTemp ETi Hybrid Pool Heater combines a powerful heat pump and an ultra-high-efficiency, gas-fired heater in the same unit. It provides superior energy savings and fast heatups, so you can open your pool earlier in the year and enjoy it longer, on your schedule.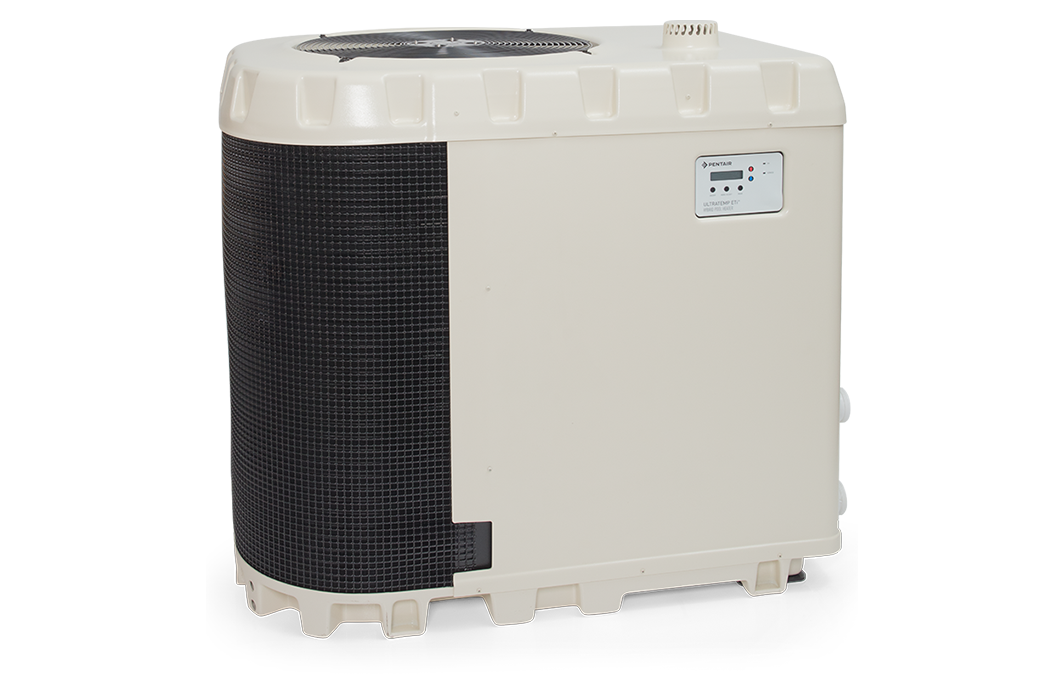 Versatile and Efficient Heating Modes
The UltraTemp ETi Hybrid Pool Heater offers four heating modes for optimum performance and efficiency. The hybrid heater's Dual Mode provides faster heatups by running in gas-fired and heat pump modes simultaneously, while Hybrid Mode calculates the ideal heating required to meet the task at hand.
Durable and Reliable Design
High operating temperatures and pool water chemistry can be rough on conventional heat exchanger materials.
Simple Automation
With an easy-to-use interface, the UltraTemp ETi Hybrid Pool Heater is easy to set up and operate. Plus, it pairs seamlessly with EasyTouch Automation Systems, as well as IntelliFlo pumps, for optimum control or your pool and equipment.
POOLS & SPAS SERVICE INC REVIEWS